Exposing False Belief About India IT Companies
With the advent of the new millennium, we saw a huge boom in the IT sector and the time has come the IT industry is arguably the largest employer in this world.
Each day is bringing a new dimension to our knowledge and we are challenging ourselves to create newer technology each day.  But where so much money and growth is involved we also need to do a bit of analysis and question ourselves. So the big question is
Initially in the early 2000s when the IT industry came in with lucrative pay packages and beautiful campuses were Show Off. Students and youth flocked to the big Indian giants like Infosys, Wipro, TCS, etc.The resultant was a big mushroom farm of engineering colleges.
How To Get a White Collar Job is the Biggest Concern:-
The most vulnerable part of our family is Parent's because they are a much more caring person than anyone else in the world.
Everybody wanted their son to be an engineer hence most parents started pushing their child to get that white-collar-job.Colleges kept on producing ill-trained graduates who barely know a thing as to how things work in the industry.
The students are piped into the MNC's. The situation was a win-win for both the parties, the MNC's got their bench strength and the typical middle-class minds got their child a white-collar job. 
But let's question ourselves is this sustainable?
With the global population increasing by leaps and bounds each day. Is this model sustainable?
Well, the answer is NO a big NO. The cumulative hiring of hundreds and thousands of engineers each year has eventually led to a lot of evident and imminent problems.
Low job satisfaction.

Poor hike in the

annual

package.

No significance in the company

And eventually a degrading morale.
Among this big number games, we have forgotten our first question i.e. "Have we innovated enough?". Let me Know what do you think?
Well, to me! The answer is to some extent a big No, a complete failure.
How?
Well here is the explanation. The whole concept of this campus hiring and providing jobs to freshers was a big hoax. I mean how can you hire somebody who has studied all his graduation to learn how bridges are built and eventually put him in front of a box to write some exceptionally performing codes.



Can he? Well practically no. He will try his best to fit himself in and eventually after a kluge of a jostle , the poor guy would learn to copy and paste some shit which has been passed on to him by somebody else, without evaluating and without even understanding it.
Most of the employees working on the big Campuses with beautiful flowers and fountains, if evaluated properly, as to how much they know about concepts of programming, then perhaps a lions share would miserably fail. 
We are just busy passing on the knowledge to the next breed with nothing new in it. Most love spending their time in the office coz it allows them to have free coffee, free occasional booze, an illusion of being rich, a lot of free time and some extra activities like Table tennis, etc.
Are the great Indian talent to rot and drained down through this fountain
of Big MNCs? Well, its for the readers to analyze.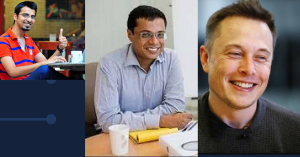 The above question raised has helped some great leaders to emerge in the past decade to name a few – Sachin Bansal, Jack Ma, Jeff Bezos, Elon Musk, and the list is endless. These leaders had the audacity to challenge the big MNCs and become the torchbearers of the next era – the era of startups. Not only do startups come with the challenges that one needs in life but also tests the capabilities of an engineer. Innovation is their survival strategy, not a USP. Your learning curve increases. Youths are leaving MNCs for the smaller organization for the sake of Job satisfaction and other reasons already mentioned.
The big IT giants who have caused such nuisance because of their greed and monopoly need to understand that the growth they are eyeing is perhaps not a very healthy one. The way, they operate they have serious issues and are creating a more of insecurity and a feeling of intellectual bondage.
I mean let us just think for some time how many inventions or rather new technologies have been given by our big multi-million Indian IT companies.
Do they have something to put on the table when it Google comes up something extremely cool every year?
Or do they have something to muscle with Apple Inc?
The growth of Indian IT industry can be healthy if the startups and the bigger MNCs understanding that the ultimate goal of IT is not to produce massive or high optimized code but to make this world better place.




We need to move ahead of digitizing the passport system. It's not an achievement it's just a mere correction of the age-old paper system.
"Are we as an IT professional happy about life?
Are we happy about the state of IT industry?"
Well, a deep silence is what we get. The reason is the companies do not focus on employee recreation and employee satisfaction. Both the startups and big giants are more focussed on numbers timelines but not on talent enhancements.
If the talents in the organization do not evolve technologically then the numbers are soon gonna fade and the company would not fare well.
Conclusion :-
We as a professional need to understand that the time has come for a Paradigm shift. where the interests of the society are changing with each day and are becoming more challenging.
We need to create a balance between satisfaction and growth. Both the education system and the Industry need to hold each other's hand so that we change the existing scenarios.
We need to revamp the whole system and the way it operates. Is it possible?
Well, it just needs a start and a Frugalis Mind.
Note: -My Intention is not to Hurt sentiment of any MNC or a Person, It finally depends on you how You perceive.It's just my thoughts and concern.
Written By – KG